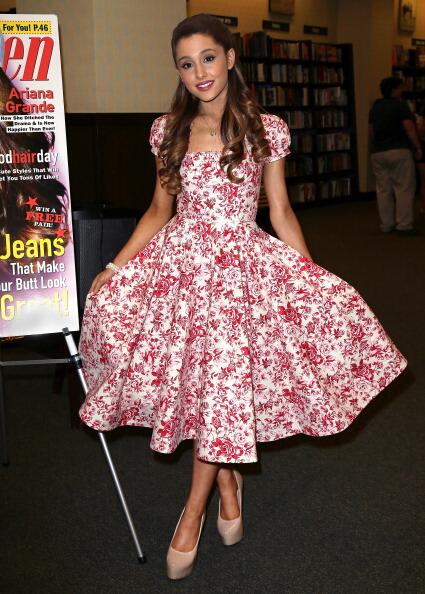 Ariana Grande had her Seventeen Magazine cover signing today, Monday at the Americana in Glendale looking elegant and classy with a white floral pink dress with nude heels. Her signing was cut short today at 8:30PM, but was supposed to end at 9PM. The reason is unclear, but it caused massive commotion on Twitter.
Ariana explained via Twitter saying, "Wish I could have met everybody who waited but security said it was beginning to be a safety hazard & I was told to keep moving I apologize. But on the other hand, I'm glad I got the opportunity to meet so many of you today. Ur all so nice. Hope you left smiling. Thank you again." Haters have been saying that she got tired and just decided to get up and leave early. The signing was packed and tweets have said that the line was extremely long and thus it turned into a mob, which is why security had been told by security that she had to leave early. Some say she was actually called a bitch during the signing and caused her to cry, prompting her to leave the signing. Others say that she was only called a bitch after she decided to leave the signing early which had then caused a girl to call her a bitch on her way out, causing Ariana to cry. Ariana was called a bitch during or after the signing and it had caused her to cry. Who do YOU believe? The fan who made her cry was @itsmarlenebabyy + her tweets UNDER!
So new to fame and so much hate already… Poor Ari!
#StayStrongAriana Ariana's fans have already trended #smileariana already. FULL TWITTER DRAMA IN PIX BELOW