Guides
How to install Windows 8 Consumer Preview on VMWare Workstation 8 Successfully
Well, finally Windows 8 Consumer preview is now available for download, and already has been downloaded more than 1 million copies in just 24 hours. If you are still left, get a copy from here.. It is very difficult to install Windows 8 Consumer Preview on VMWare Workstation, am not sure about others but it is my personal experience. After 5 to 6 failed attempt finally I succeeded to install it on VMWare successfully.
If you are trying to install Windows 8 on VMWare Player or Virtual PC, just follow the below steps to make it work.
First of all you need to make an Installation DVD of the Windows 8 ISO image you downloaded from above.
There are various ways to make the DVD for example; you can make use of Windows Disc Image Burner right on your Windows 7 PC. It is the easiest way to convert an ISO file to a DVD in Windows 7. Alternatively you can install 3rd party applications like NERO to burn the same.
Download VMWARE from here https://www.vmware.com/try-vmware/ . Downloading process of VMWare Workstation is pretty long and annoying. First you require registering on Vmware site, you will get an email after registering on the site containing some instructions. Just follow those instruction and obtain a product key.
Once you finished with the above process, its time for installing VMWare Workstation. VMWare installation is pretty simple, just like other applications. Make sure you have the VMWare product key safe as its required while installation.
After installing VNWare, simply launch it from desktop shortcut or startmenu entry.
Simply click on the appropriate link in the welcome screen in order to create a new Virtual Machine.
On the next screen click on 'I will install the operating system later' as shown in the image below.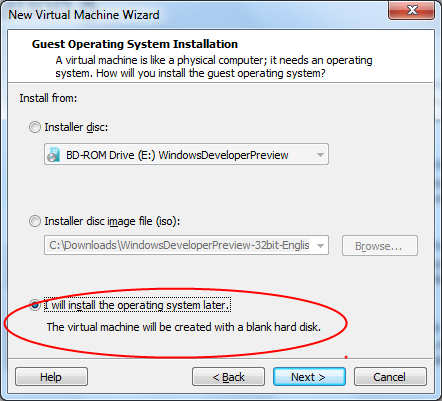 On next windows you probably need to select 'Windows 7' as the OS because there are less chances of windows 8 to be listed in the list.
Select the default options at all screens you get next.
Once you are done with creating new virtual machine, you will see a new virtual machine with a blank screen as show below.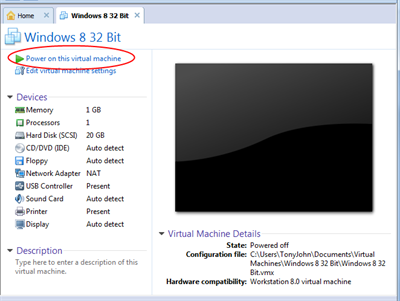 On this window you need to click on 'Power on this virtual machine' at the top of the windows as shown in the image above. At this stage system will try to boot but will process will obviously get failed as there is no operating system installed yet. Don't panic.
Now is the crucial part of the process. Here you need to mount the ISO image as DVD drive in order to install Windows 8 Consumer preview.
On the main screen of the new Virtual Machine, click on Tab, click on 'Removable Devices', than click on 'CD/DVD (IDE)' and finally click on 'Settings'. This will mount the Windows 8 ISO image.
Now from the Virtual Machine Settings window, click on the CD/DVD (IDE) settings on the left pane and check marck the option 'Use ISO image file' on the right pane.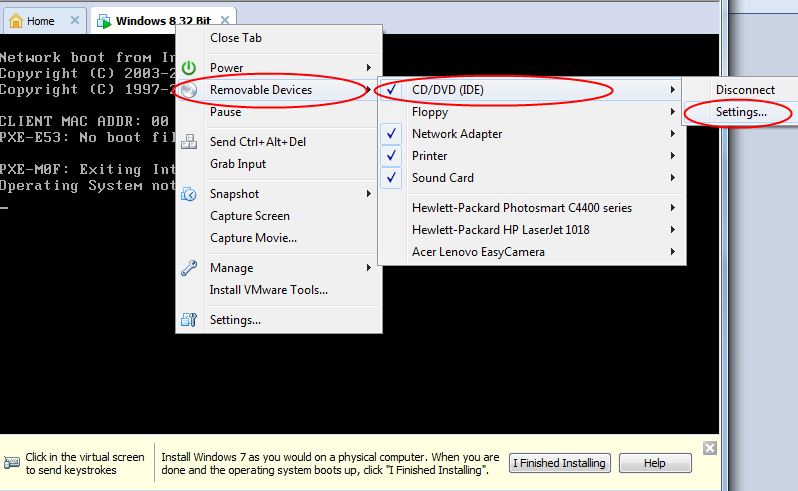 Browse the path of ISO image and click OK.
That's it. Now click on 'Restart VM' at the bottom of the VMWare Workstation windows to restart. When it comes back, it will boot from the Windows 8 ISO image and do rest of the process itself. The process will take around 10 to 15 minutes depending on your system config strength.
Once you get the Windows 8 Consumer Preview Installation Window, follow the screen instructions and you might have did while installing Windows 7. Where you get to enter Product key, simply enter the one mentioned in the above article (Paragraph 1).