Guides
How to make Nokia Symbian Mobile a WiFi router (Hotspot)
Now a days portable hotspots have become very important for the on going generation because of holding various gadgets that needs internet access but they dont have built-in features. Talking about Nokia smartphones, except few latest Smartphones None of Nokia mobiles were having features for Portable Hotspot. But here is a trick that will help you to turn your any Symbian S60v5,S60v3 and Symbian 3 based smartphones in Portable Hotspot and share your 2G/3G internet connections with other devices as wifi. Lets have a look how to do so:
1. First of all you will need to download a small application named "JoikuSpot Light WiFi HotSpot". You can download the same from Joiku Official Site or from Ovi Store.
2. Next install the same if you downloaded from Joiku Site. if downloaded from Ovi, it will be installed automatically and will look like this:
3. Next you have to launch the app. You will prompted with conformation to share your Internet, press Yes.
4. JoikuSoft will ask for access point, select your preferred one and press OK.
5. Wait for few seconds and allow the app to launch the hotspot.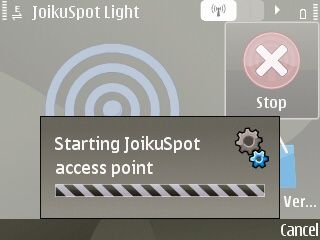 6. Once created, you will get the following message on screen
7. Now scan for the available WiFi on any WiFi compatible devices. It will show your phone as hotspot with the name depending on your Phone model like this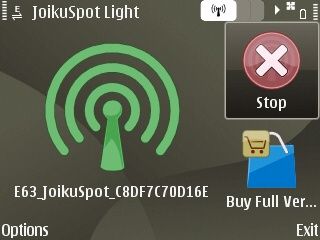 Now enjoy sharing WiFi on any wifi Enable tablet,smartphone or even laptop.
JoikuSpot Light WiFi HotSpot is a free application and very useful but there are few limitations as well. With this free version you cannot secure your WiFi. That means anyone getting the signal can use your internet without your knowledge unless and until you see your phone's log who is connected on your hotspot. But securing your Hotspot is no impossible. You can upgrade to JoikuSpot full version that costs just Rs 35/-. This will allow you to secure the access with password and only users having the security key will be able to access the same.
There are many more features you get with JoikuSpot, like which devices are connected (as said above), what amount of data has been used, etc. like shown in this image:
There is the only drawback of using JoikuSpot. First your battery will start draining faster and second, your Nokia mobile will overheat until the Hotspot is on.