Guides
Samsung Galaxy Note2 N7100ALIJ1 Split-Screen (Multi-Window) Firmware Installation and Features
Samsung's Galaxy series have been great hit in the market for all time. Recently after the success of Galaxy S3, Samsung unveiled Note 2 with lots of new features with the improved S-Pen that offers Air View. Yesterday Samsung rolled out a new Firmware Upgrade for Indian Customers, the version is N7100ALIJ1 but it is also called as "Split Screen "upgrade because it brings the new feature of Multitasking where we can work with two applications simultaneously on the same screen side by side. It looks like this:
This MultiScreen feature is quite impressive and interesting where you get a sidebar on your screen with Apps shortcut icons. The upgrade N7100ALIJ1 is available on through OTA (Over-the-Air) update on your device. In order to upgrade to the same, follow these steps:
Tap settings Icons on your device.
Scroll to the bottom of the screen.
Tap 'About Device' and click "Software Update"
Wait for few seconds and you will get the following screen: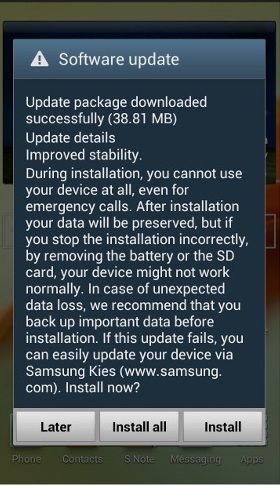 Simply Click on Install.
System will first download the firmware on your device and will reboot the smartphone for installing the same.
That's it. Once the installation is done you will see a new SideBar on your screen. Now go to settings 'About device. You will see the following firmware installed: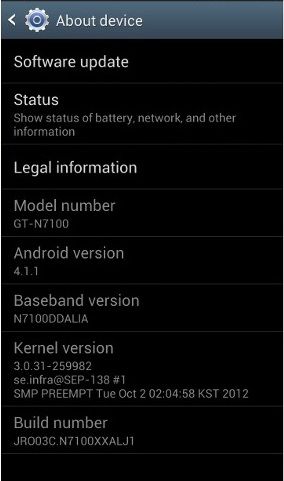 As you can see in the first image, the firmware size is about 39MB, I recommended you to be connected on WiFi or 3G network and your battery should be minimum 50% charged before you start the upgrade process.
The new sidebar you can see is fully customizable. You can move it anywhere on the screen. It can be placed on the Top, Bottom, Right or left of the screen. Though there is a limited number of apps space, you can add your favorite ones by removing any of them. But remember, only Samsung and Google Apps can be added to this list. No other application or games will work on this sidebar. This is a very useful upgrade by Samsung i can say for Note 2.