Guides
Installing Nemesis (JellyBean 4.2.1) Custom Rom on Samsung Galaxy Y – Step By step guide
Couple of days ago we provided Step by step guide on installing first ever JellyBean based (Jellynoid) Custom ROM for Samsung Galaxy Y S5360. Many users reported that Jellynoid dint worked for them. According to them their phone got stuck on Reboot. So today we bring you a new Jelly Bean based Custom ROM named as "Nemesis". The new ROM is very light weight and based on Android 4.2.1. Below is the step by step process of installing the same along with its required Download files. We have also created a Video showing how to install Nemesis ROM on Galaxy Y S5360. As the ROM is running on latest Android OS you also get Quick Setting panel in Notification which is the new feature of JB 4.2.
The installation process for Nemesis is relatively very similar to all precious processes we have seen for ROM Installation but Note that this is Unofficial ROM. If anything goes wrong Me or this site is noway responsible for the same. However the ROM works fine as you can see in the Video provided below. Only condition is to Follow the process properly. Before we start the actual process lets have a look at few screen shots of Nemesis ROM:
Pre-requirements:
As I always say, there are some requirements you need to go through before installing this ROM, just like any other Custom ROMs. Here they are:
Backup your important Data, Files, Contacts, messages, etc before going through this process as it will delete everything stored on the phone.
Installing Nemesis requires ClockWorkMode (CWM) Recovery Tool. Hence make sure you have already installed CWM on your phone
Download Android 4.2 Nemesis ROM from the URL provided below and save it on your desktop.
Charge your battery to atleast 70%. If the phone gets turned off due to low battery during the process, your device may get bricked. Don't worry we also have solution for bricked phones. Search the forum for that article.
Your device must be rooted to install this or any Custom ROM.
Once you are ready with all these requirements, move towards Download Section. Here are the files you may require during this process.
Downloads:
Download Android JB 4.2 Nemesis custom ROM.
Download ClockWorkMod Recovery Package. 
Download Rooting App for Galaxy Y
How to Root and install ClockWorkMod Recovery on Samsung Galaxy Y:
If this is your first time for trying out any Custom Rom on your phone, here are few links which may help you to fulfill the pre-requirements. Like I said your device must be rooted, you can just go through the following Article describing "How to Root Samsung Galaxy Y S5360 – Easiest Method" in case your device is still not rooted.
And if your device was rooted, obviously you would not have CWM already installed on our phone. So, simply check out this Article with step by step process of installing ClockWorkMod Recovery on Galaxy Y S5360. Once your galaxy Y is rooted and ready with CWM recovery installed, lets move ahead to Nemesis Installation.
Process to install JellyNoid on Samsung Galaxy Y S5360: 
Connect your Mobile phone with the computer where you have saved Nemesis Custom ROM using USB Cable. Copy the downloaded file First of all you need to connect your phone to PC using USB Cable. Copy the download ROM package to your phone's SD Card. Make sure to copy it in the root of SD card so that it is easily accessible during installation process.
After copying the files, safely unplug the USB cable and turn off the mobile.
Now press and hold the Volume Up + Home + Power key at the same time for 10 to 15 seconds in order to boot into recovery console. Once you see Samsung logo leave the buttons..
Once in recovery console, select ClowkWorkMode recovery.
Now once you are in CWM Recovery, scroll using Volume Up/Down keys and select "Wipe Data / Rest" using Home Key.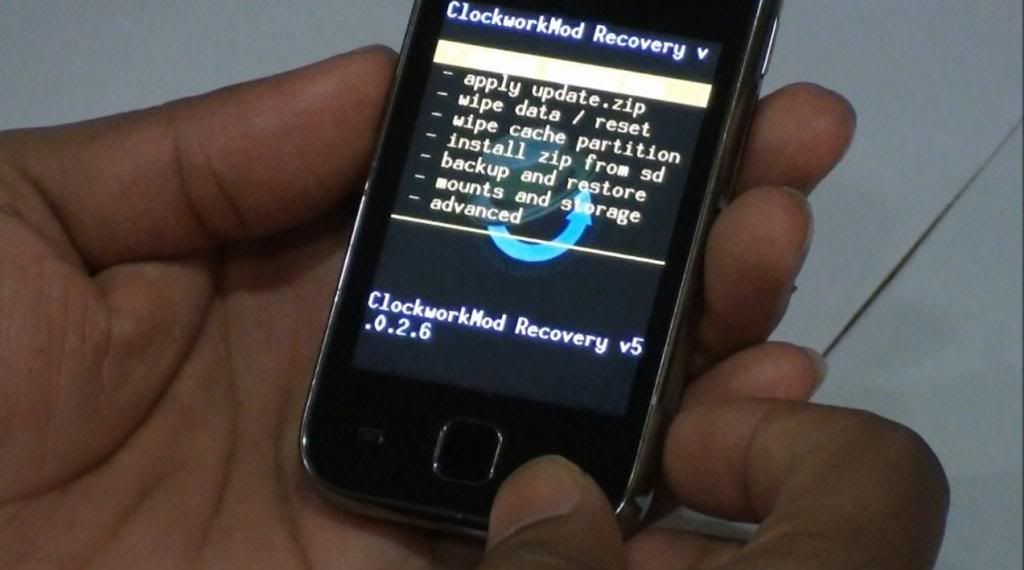 Confirm selecting "Yes" on the next screen
Now similarly select "Wipe Cache Partition" by scrolling down and confirm by selecting "Yes" on the next screen.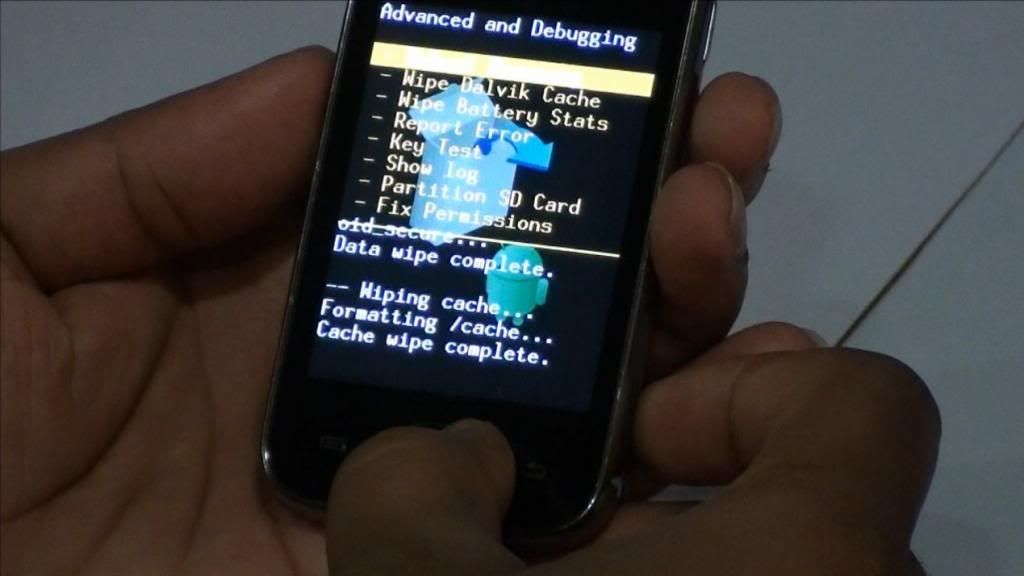 Now select 'Advance' option at bottom and select 'Wipe Dalvik Cache'
Now back to the main CWM recovery screen and select "install from SD card" option.
Browse and select Nemesis Custom Rom which you copied on your SD Card in the first step.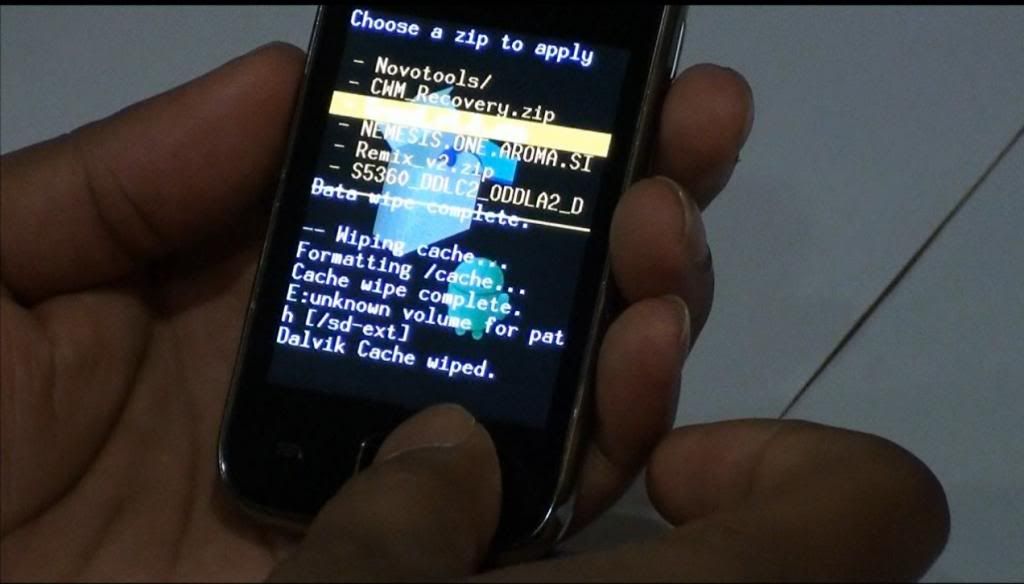 Once done the setup will start. Keep patience, wait for few minutes and let the process complete.
Once the setup is done Go back to the main menu and select "Reboot System Now" to restart the device in the new ROM.
That's it. At the first boot, you device may take 2 to 3 minutes to start as this is the first boot after installing new ROM. So don't panic, wait and let it start. The installation is done now. Once it is booted, you will get 3 launcher option on the screen. Simply select the first one "Nemesis Launcher" to get to the phone's home screen.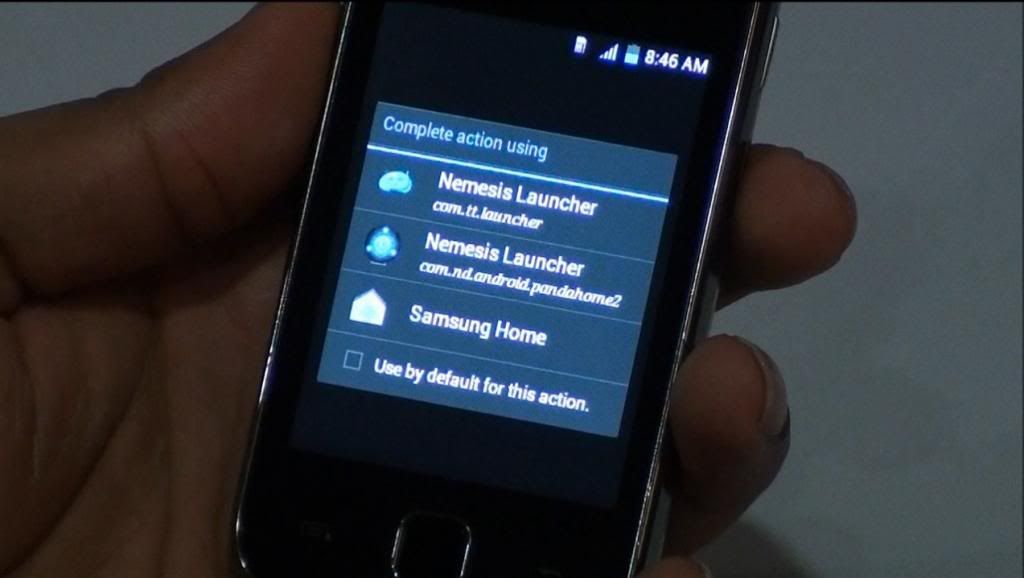 In case, I mean if somehow your phone gets stuck on Samsung Logo and wont boot, you can try out the process from start once again. Hopefully in second attempt the ROM will work fine. In my case, it dint hung anywhere and working fine, you can see it in the video below.
Good Luck. All comments and suggestions are welcome. Thanks.
Apart from the step by step process above, you can also check the entire process of installing Nemesis on Galaxy Y from beginning in this Video.