Guides
Get Ice Cream Sandwich on Samsung Galaxy y S5360 with Aura Custom Rom
Though Android 2.3 Gingerbread is said to be the most stable version until now, people who used Android 4.0 ICS usually get bored with gingerbread. Even I had Galaxy Y running on Gingerbread and HTC Wildfire S running on Ice Cream Sandwich. But after using my HTC I never wanted to use Galaxy Y because of the user interface and features I got in ICS. Anyways, I am here to share how to install Ice Cream Sandwich on Samsung Galaxy y S5360.
We all know that the highest upgrade Galaxy Y got is the Android 2.3.6 Gingerbread. I guess this could be highest update for this device according to its hardware support. So does it means, Galaxy Y users will never get to experience ICS on this smartphone ? Nope, that's wrong. You can get the feel of ICS right on your Galaxy Y with the help of Custom Rom called "ICS Aura ROM".
After installing Aura ROM, your Samsung Galaxy Y will be with just next Ice Cream Sandwich. You get all ICS animation styles, ICS user interface, new miui music player, compass and many more ICS applications. Just check the screenshot of Aura Custom Rom:
If you want to make your smartphone look like the same and having the features/Apps of ICS, lets see how to get ICS on Galaxy Y S5360. Before we actual install this custom ROM, there are few things to be one. Check below.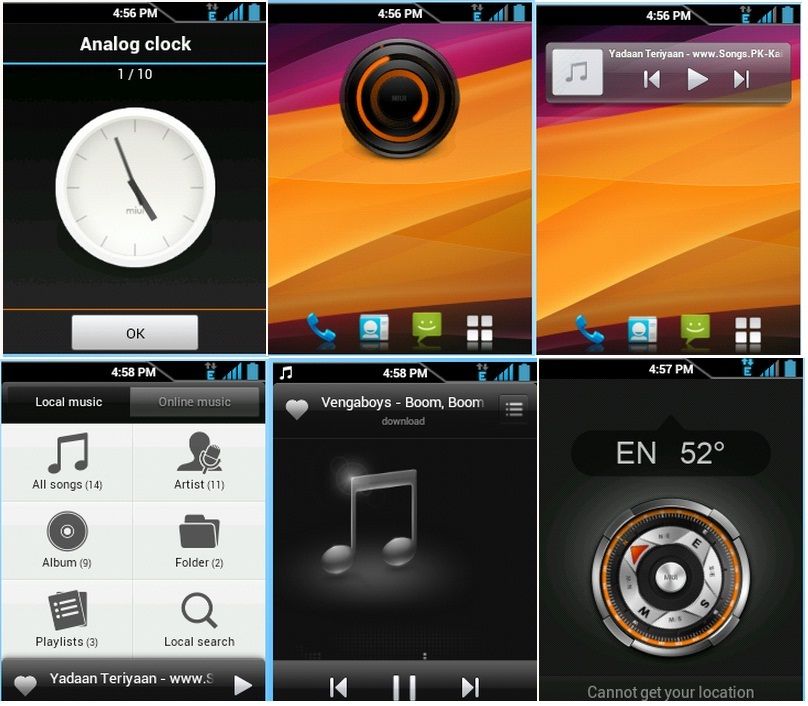 Requirements before installing Aura ROM:
During the installation process your device will be flashed. Hence you should take backup of all your data including apps, Contacts, SMS, Logs, all multimedia files, etc. You can keep these backups on your SD card or on your PC.
Fully charge your battery or it should have atleast 70% charged. Note if devices turned off in between due to the battery, your device mat be dead.
Download and install Clockworkmod Recovery. You can download it from here.
Download ICS Aura ROM and save it on your PC. File name should be aurarom.zip
That's it. Now we can start installing the Custom ROM on your smartphone. Remember that Rooting your device or installing Custom ROM need expertise. If you made a small mistake during process, your device may be dead. So always follow this process on your own risk or get it done by any technical guy who have some experience about the same. We are not responsible for any damage done to your device.
Installing Aura Custom Rom on Samsung Galaxy Y S5360:
Go to 'Settings' and click on 'Applications'. Now click 'Development' and check 'Enable USB Debugging' box.
Connect your smartphone and the PC where you have saved the Aurarom.zip.
Copies the rom Zip file to your phone's SD Card. Keep it on the root of your sd card.
Disconnect the phone from your pc and switch it Off.
Now hold and press key combination of Home + Volume up + Power key. This will boot your device in Clockworkmod recovery mode.
Now scroll with the volume key and select 'Install Zip From Sd Card' .
Locate and select 'Aurarom.zip'
Let the system install the ROM.
Go back and select 'Reboot system now'.
And you are done. Your smartphone will take time to reboot here as this is the first time its booting after installing this particular ROM. Once it is booted you will find that your Galaxy Y Smartphone is having completely new look with new apps and features. If you get any problem after the installation, restart the process from the first step and install it again. Enjoy.
Just have a look at the new apps and features packed with Aura Custom Rom.
Ics Animations
Similar Ics Apps]
Dsp Manager
Auto Zipalign At Every Boot
Based On Dxkl2 (Testing On Ddkk1)
Added Miui Music Player
Widget
Miui Compass
De0Dexed
Zipaligned
Ics Google Search Widget
Zeam Launcher