Guides
How to recover IMEI number of Android Mobile Phone (Samsung Galaxy S2)
Now a days almost 90% Android users use to root their phones or use Customer ROMs so that they can get a better interface and fast response. But along with this benefit, there are also some advantages. While you root your Android Smartphone, you actually make some changes in your system's one very crucial folder that is named as "EFS folder". And all these changes result in changing your IMEI number. I hope you all are aware of IMEI, that is International Mobile Equipment Identity. It is a 15 to 17 digit code that helps you track your lost device. It also helps you restrict the access to handset functionalities like calling, messaging etc.
If you are one of those, who had put custom rom and lost IMEI, than here are steps you need to recover previous IMEI number on your Android Mobiles. In our case we took Samsung Galaxy S2. Lets start the process.
Before you start recovering your IMEI number, you need to meet some requirements that are as follows:
1. Your Samsung Galaxy S2 must be Network Unlocked and should be Rooted device.
2. You must have installed Terminal Emulator on your device. It is an application that allows you to access the built-in Linux command line shell.
3. You must also have installed a file manager named as Root Explorer that will helps us to access your EFS Folder
That's it, if you have done all these things, than follow the below steps in order to recover the IMEI number of your smartphone:
1. First of all take a backup of your 'EFS' folder with the help of 'Root Explorer' file manager. Copy the taken backup to your memory card and a copy to PC as a safe.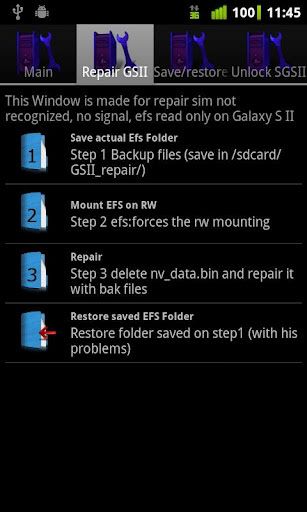 2. Once you took the backup, delete this EFS folder from your mobile system.
3. Now reset your smartphone. To reset your device, go to Settings > Privacy > Factory Data Reset > Rest Phone. That's it.
4. Once your device reboots, go to the root via Root explorer. Here you will see a new EFS folder generated automatically after you reset your mobile.
5. Now open this Folder and carefully delete the following 2 files: 'nv_data.bin' and 'nv_data.bin.md5'.
6. Now go to the Old EFS folder (Backup) that you have kept on your PC and copy the folder named as 'IMEI' and paste in your mobiles EFS folder.
7. Now use Root Explorer and make 2 copies of '.nv_data' file in the root of your phone and rename one of them to 'nv_data.bin' and another to 'nv_data.bin.bak'.
8. This is the most crucial part, do it carefully. Open the terminal or command prompt at the ADB tool path and type the following command:
su //Allow the message came at your phone's display by superuser program
chown 1001:radio /efs/nv_data.bin
9. Wait for few seconds, and again Reset you mobile to Factoring Settings by going to Settings > Privacy > Factory Data Reset > Rest Phone.
That's it. You are done. Now from the home screen dial *#06# and check if your previous IMEI number is restored.
You can also see watch this exclusive video of recovering IMEI from Samsung Galaxy S2:
https://www.youtube.com/watch?v=iY9cDkj4CCw