Finally Darksiders 2 is not out on PC and there are many gamers already started playing it right on the second day of its launch. It is very nice game offcourse. But are all gamers playing the game comfortably ?Almost every high end games launching today create some problems such as lag, freeze, crash to desktop, etc and there use to be many reasons behind that. And obviously there are such problems with Darksiders 2 as well. Hence, I am posting here Troubleshooting guide for the same that will help you solve all these Problems.
The very first thing we should check before buying or installing any video game is its system requirements. Please check if your system specifications meet the games requirements:
Minimum System Requirements:
OS: Windows XP, Windows Vista, Windows 7
CPU: Intel Core 2 Duo @ 2.0 Ghz OR AMD Athlon 64 X2 4200+
RAM: 1.5 Gb
HDD Space: Atleast 10 Gb free space
Graphics Card: nVidia GeForce 8600 Or ATI Radeon HD 2600, minimum 256MB video memory
Sound Card: DirectX Compatible
DirectX: 9.0c
Internet: Broadband Internet Connection for playing Online Multiplayer
Recommended System Requirements:
OS: Windows XP, Windows Vista, Windows 7
CPU: Intel Core 2 Quad @ 2.4 GHz OR AMD Phenom II X4 @ 2.6 GHz
RAM: 2 Gb
HDD Space: Atleast 10 Gb free space
Graphics Card: nVidia GeForce 9800 GTX OR ATI Radeon HD 3870, minimum 512MB video memory
Sound Card: DirectX Compatible
DirectX: 11.0
Internet: Broadband Internet Connection for playing Online Multiplayer
Fix Darksiders 2 Crash To Desktop (CTD) while Launching the game or while playing the game:
There could be various reasons behind game crash or Crash To Desktop that is also called as CTD, but the very first reason use to be Graphics. Anyways, lets see the list of workarounds in order to fix Darksiders 2 crashes:
First of all make sure your all system drivers are up-to-date, especially graphic drivers. If it is not updated, do it right now from the following URLs: Download nVidia Drivers / Download AMD/ATI graphics Drivers.
If you are playing the game on Windows 7 and still facing the game crashes while startup or in game, simply go to the game's installation folder (Probably should be C:\Program Files\game folder), right-click the Darksiders 2 exe file and choose properties. Now go to Compatibility Tab and select "Windows XP SP3" under Run this program in compatibility and also check mark 'Disable Desktop Composition' as shown in the image below. Now try to start the game again.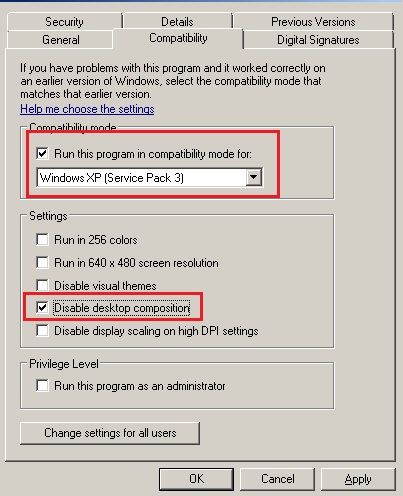 If still there is problem than go to your graphics control panel and Turn off SLI / Crossfire. Also try running the game on only 1 GPU. Turn off the second GPU from this control panel itself.
You can also disable anti-aliasing, filtering, and V-sync if the problem wont get solved after trying above stuffs.
Many times antivirus or security suites installed in the system interfere usually while playing games. Hence, don't forget to disable or turn off before launching Darksiders 2.
Another reason for game crashes could be various processes running in the background. Hence always disable all unnecessary background processes before starting the game. You can do this by opening Task manager, select process, right click and kill.
By trying all these your crash problems should be fixed surely but in case it is not, than simply go back to the Darksiders 2 installation folder and double click Darksiders 2 .exe file to launch the game directly from here instead of desktop shortcut.
Fix Darksiders 2 Lagging and Freezing:
Follow the below steps if you face freezing problems and Lag or low FPS:
The main reason behind video game lags could be less memory resources. Hence you should disable unwanted process running the system background. To do this, right click on Taskbar, select Task Manager, right click the processes not required and select End Process.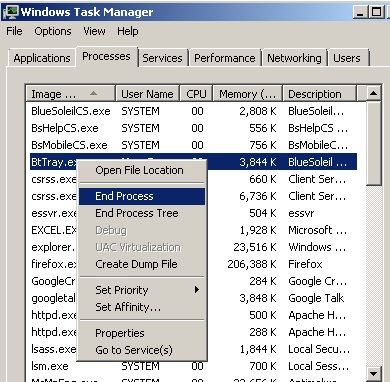 After killing all unwanted process, Launch the game, and press Ctrl + Alt + Del key. Select Task Manager, go to Process Tab. Now select Darksiders 2 exe file, right click and Set priority to High or Above Normal. Now close task manager and return to the game. It should work fine now.
If you still feel lagging or freezing in the game, open your graphic card control panel and disable Vsync as well as Antialiasing for Darksiders 2 exe. Now restart the game again.
As told above, always disable all security suites including Windows defender before launching the game. This will fix lag and freezing issues.
Fix Darksiders 2 Sound and Audio issues:
Drivers could be the main reason here as well. If you are not getting proper sound and there is no sound than simply update your Audio drivers. You can do it from Device manager.
Make sure you have set the sound at maximum level. Do this by clicking on the little volume icon in the system tray. Also check volume settings in the game settings.
Another fix for sound issues on Windows 7 is to go to Control Panel, click on Hardware and Sounds, Now click on Sound Go to 'Communications' Tab, click on last option 'Do Nothing' as shown in the image below. Click Ok.
If you are playing the game on Windows XP, than such sound problems can be fixed by setting your speakers to Stereo or by reducing hardware acceleration.
Fix Darksiders 2 Black Screen problem:
Most of the Black screen appears on various pc video games because of the conflict in your game resolutions and Monitor resolutions. In order to fix this problem in Darksiders 2, follow below steps:
If you are playing on Windows XP, go to this location:
C:\Documents and Settings\yourname\Local Settings\Application Data\Darksiders 2
If you are playing on Windows 7, go to this location:
C:\Users\yourname\AppData\Local\Darksiders 2
Note: Above mentioned locations use to be under hidden folders. Hence you will need to make your windows explorer to show Hidden files. To do this open Windows Explorer, select Tools/Folder Options on XP and Organize > folders and search option on Windows 7, click on View Tab and Select Show Hidden files and folders.
Once you are in the above mentioned location/folder, search for a file named "options.dopt" and deleted it. That's it. Restart the game and there will be no more Black Screen issues.